Anyone Know What Happened With Arvixe?
When everyone is talking about Arvixe issues, I also curious and look it up on google. And see what is displayed on the first page of google.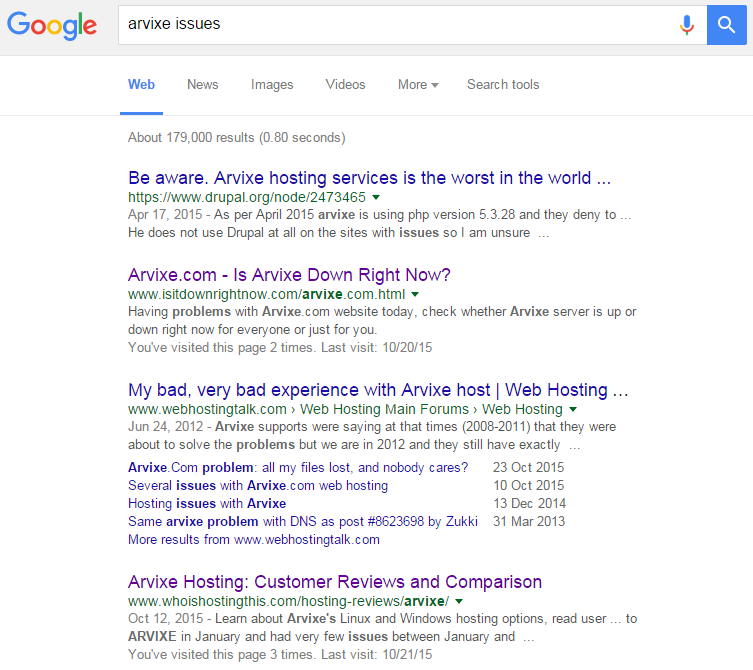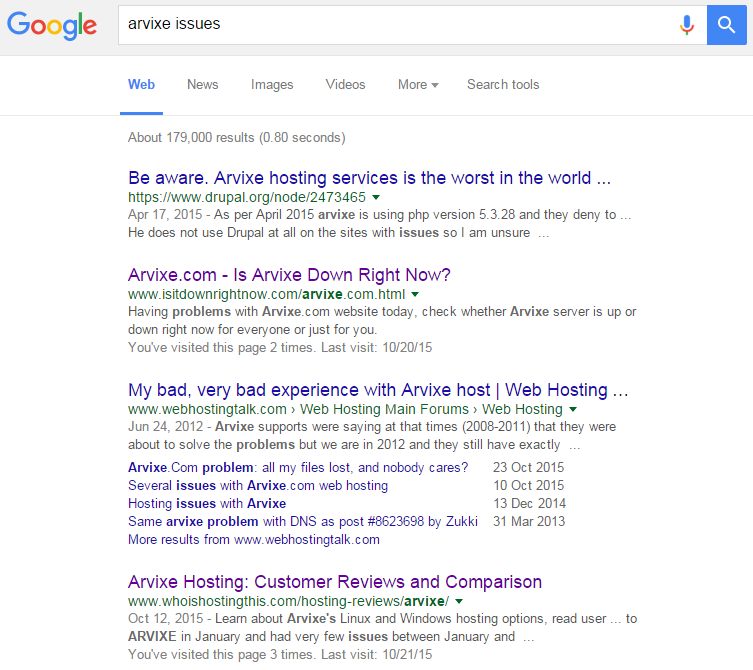 Arvixe Issues
Arvixe is one of the major hosting companies. No wonder the number of its customers are many. No wonder this also causes them often condemned. But what happened recently is different. Not just a small problem. These issues have occurred since EIG bought Arvixe.
What is EIG?
From WikiPedia.org I found that, about EIG (Endurance International Group)
Endurance International Group, Inc. (EIG), formerly BizLand, is a web hosting company. The company was founded in 1997 and is headquartered in Burlington, Massachusetts. It achieved its size by acquiring a large number of smaller companies, which it continues to operate under the original brand names.
I found out in an another thread that Arvixe got bought out by EIG on October 31, 2014; here is the article that confirms the acquisition.
On November 4th 2014 Endurance International Group (EIG) released its 2014 Third Quarter Results which contained reference to the purchase of Arvixe on the 31st October 2014:
"During the quarter, the company acquired Webzai, Ltd. and the assets of BuyDomains. In addition, on October 31, 2014, the company acquired the assets of Arvixe, LLC. The total consideration for these acquisitions is expected to be approximately $77 million."
Arvixe was owned by Arvand Sabetian and Avanquest North America Inc, and the purchase price is likely to be significant. We have confirmation that Avanquest has also sold its 50% share in the company via Reuters.
Facebook Activity From Arvixe Customers
Stay away from #arvixe web hosting service, they are not able to resolve a reported server issue for 10 days, trying to reach the tech support, no luck!

Posted by Sakthi Vadivelan on Monday, October 26, 2015
EIG Hosting List
The list is compiled mostly based on news in the mass media
Belongs to EIG Since May 2007 or Earlier
FatCow (fatcow.com)
FreeYellow (freeyellow.com)
HyperMart (hypermart.com, hypermart.net)
iPower (IpowerWeb, ipower.com)
PowWeb (powweb.com)
PureHost (purehost.com)
VirtualAve (virtualave.net)
Belongs to EIG Since July 2009 or Earlier
Acquired by EIG in 2010
HostClear (hostclear.com)
JustHost (justhost.com)
SuperGreen Hosting (SuperGreenHosting, supergreenhosting.com)
Belongs to EIG Since April 2010 or Earlier
2slick (2slick.com)
AccountSupport (accountsupport.com)
ApolloHosting.com (apollohosting.com)
Berry Information Systems L.L.C. (berryinfosysllc.com)
BlueDomino (bluedomino.com)
CarielWeb (carielweb.com)
ComputersConcepts (computersconcepts.net)
Dollar2Host (dollar2host.com)
DomainHost (domainhost.com)
Dot5Hosting.com (dot5hosting.com)
Ehost (ehost.com)
EntryHost (entryhost.com)
Escalate Internet (escalateinternet.com)
Globat (Glob@t, globat.com)
Homestead Technologies, Inc. (homestead.com)
HostADay (hostaday.com)
HostCentric (hostcentric.com)
HostWithMeNow (hostwithmenow.com)
HostYourSite.com (hostyoursite.com)
IMOutdoorsHosting (imoutdoorshosting.com)
iPage (ipage.com)
MyResellerHome (myresellerhome.com)
NetworksHosting (networkshosting.com)
OsullivanSystems (osullivansystems.com)
ReadyHosting (readyhosting.co.uk, readyhosting.com)
Saba-Pro (SabaPro, sabapro.com)
SouthEastWeb (southeastweb.com)
Sprly (spry.com)
StartLogic (startlogic.com)
TightHost (tighthost.com)
UsaNetHosting (usanethosting.com)
VPSlink (vpslink.com)
Web2010 (web2010.com)
WebDevHosting (webdevhosting.com)
WebHost4Life.com (webhost4life.com)
WebstrikeSolutions (WebstrikeSolutions.com)
Xeran (xeran.com)
YourWebHosting (yourwebhosting.com)
ZipitDesigns (zipitdesigns.com)
Belongs to EIG Since July 2010 or Earlier
A Small Orange (asmallorange.com)
Acquired by EIG in November 2010
Belongs to EIG Since 2011
MailEIG (maileig.com)
NamesDirect (namesdirect.com)
NameZero (namezero.com)
PipeDNS (pipedns.com)
VDeck (vdeck.com)
WebsiteWelcome (websitewelcome.com)
YourHostingAccount (yourhostingaccount.com)
Was Acquired by EIG in 2011
Acquired in July 2011
Belongs to EIG Since July 2011 or Earlier
Belongs to EIG Since October 2011 or Earlier
Was Acquired by EIG in 2012 or Earlier
Acquired in June 2012
HostGator (hostgator.com)
Acquired in August 2012
Belongs to EIG Since 2013 or Earlier
Spertly
Unified Layer (unifiedlayer.com)
Acquired by EIG in March 2013
MojoMarketplace (mojoness.com, mojo-themes.com, mojo-code.com)
Acquired by EIG in 2014
BuyDomains (buydomains.com)
Webzai (webzai.com)
Belongs to EIG Since 2014 or Earlier
SEOGears (seogears.com)
TypePad (typepad.com)
Acquired in January 2014
BigRock (bigrock.com)
Directi Web Technologies (Directi, directi.com)
ResellerClub (resellerclub.com)
Belongs to EIG Since February 2014 or Earlier
JustCloud (justcloud.com)
Acquired by EIG in October 2014
Belongs to EIG Since August 2015
Verio (verio.com)
Site5 (site5.com)
Others
000WebHost (000webhost.com)
Sister company of SEOHosting which was later acquired by EIG
BizLand (bizland.com)
Former name of EIG. Founded in 1996
FastDomain
Has become part of Bluehost since December 2006 (or earlier)
Bluhost was later acquired by EIG
HostNine (hostnine.com)
Is a sister company of A Small Orange (ASO), which is an EIG hosting.
HostMonster (hostmonster.com)
Is a sister company of BlueHost, which was acquired by EIG
LogicBoxes (logicboxes.com)
Acquired by Directi, which was bought by EIG
MyDomain (mydomain.com)
Belongs to EIG
SEO Hosting (seohosting.com)
Was part of HostGator which was later acquired by EIG
webhosting.info
Acquired by Directi, which was bought by EIG
IdeaHost (ideahost.com)
Belongs to EIG
Non EIG Hosting Recommendation
HostForLIFEASP.NET
HostForLIFEASP.NET is dedicated to being more than just another web hosting provider as they see their selves as a long-term business partner tasked with handling a critical component of your website. Combining industry-best practices and staff with cutting-edge knowledge and expertise, they provide the stability and reliability you need to realize success in today's modern world.
Their single focus concern is providing your websites with the utmost in terms of reliability and stability. To that end, they have built an industry-leading web hosting platform featuring the best of modern technology and industry practices.
Green Geeks
Since their launch in 2008, GreenGeeks has been the industry's leading green energy web hosting provider putting back 3 times into the grid through wind energy that they consume. They are based out of Los Angeles, California to provide only the best service to customers from over 150 countries. They offer Shared, Reseller, VPS and Dedicated Server packages for those just starting out all the way up to the professionals. You can rely on them for 24/7/365 support, 99.9% uptime guarantee and a 30-day money back guarantee. You can learn more about GreenGeeks by visiting their company page.
ASPHostPortal
ASPHostPortal gets its name by offering hosting based on Microsoft's ASP platform. They focus on the Windows side and have won an award from Microsoft saying that it's the #1 recommended Windows and ASP.NET Spotlight hosting partner in the US. With more than ten years combined experience in PHP, .NET and network administration, this company now has 10,000+ customers from 5 different continents. It is an affordable and feature-rich ASP.NET hosting solution.
LiquidWeb
Liquid Web Inc. is a privately held, managed web hosting company founded in 1997 with three wholly-owned data centers in Lansing, and a fourth location in Scottsdale, AZ. As a leader in the professional web hosting industry, they have an unwavering dedication to providing the best hosting products available and premium customer support.
They received the INC.5000 Fastest Growing Companies award in 2007, 2008, 2009, 2010, 2011, 2012, 2013 and 2014.