BestCloudHostingASP.NET | Best and affordable Umbraco 7.3.1 hosting. The latest version of Umbraco is 7.3.1. Umbraco 7.3.1 is a bug fix release on 7.3.0. The fixed bugs are listed below.
What is Umbraco?
Umbraco is an open source web content management system that was originally developed by Niels Hartvig around 2003. It runs on Microsoft's ASP.NET technology and uses a sql server database for storage. Umbraco is a completely free and open-source content management solution written in C#, Umbraco is a robust solution for your Web publishing needs. Umbraco can be deployed on Windows Server only, so Linux hosting provider doesn't support this CMS.
Umbraco is different from other content management systems because it is allows for more customization. Umbraco gives you the best of both worlds: freedom and flexibility to choose how you want your website to look, without the hassle of actually creating the site yourself.
What is New in Umbraco 7.3.1?
Features
U4-4794 – Display the property alias for content properties & provide a link to the content type from the generic properties tab

U4-7032 – 7.3.0 Custom backoffice login provider requires documentation + simpler implementation extensibility

U4-7218 – Copy content without descendants in UI
Issues & Tasks
U4-3642 – no duplicate hostname error feedback

U4-5963 – There should be no external request dependencies

U4-6125 – Installing MySQL Web Provider Breaks Page Publishing

U4-6171 – Continuous Deployment from Visual Studio Online to Azure Websites not working as expected

U4-6385 – Poor Handling of disallowedUploadFiles

U4-6797 – Host name is not removed when page is deleted

U4-6962 – Public access in multiple levels is broken in 7.3

U4-6967 – Retina image of avatar

U4-7021 – Actions dropdown not available to children in listview nodes

U4-7075 – Enable Content and Media section by default for new backoffice users

U4-7092 – can't show avatar because in China all users can't access to some sites.

U4-7118 – Chrome does not handle received 'Set Cookie's with no domain

U4-7151 – Sample is not right when user want to set database.

U4-7162 – Installation of the Txt starterkit on 7.2.8 does not work

U4-7164 – Nuget Update-Package UmbracoCms fails if I have removed dashboard section

U4-7193 – NuGet install doesn't add all bindingRedirects

U4-7194 – XSS issue with regexws page

U4-7195 – XSS issue with editview.aspx

U4-7196 – XSS vulnerability in BrowseRepository

U4-7197 – open redirect vulnerability with ClientRedirect

U4-7198 – Change default log4net config to include machine name in file name

U4-7201 – Can only save once in some editors after upgrade to 7.3

U4-7214 – Culture is not supported. Parameter name: name en_us is an invalid culture

identifier error selecting user with different language after upgrade to 7.3.0

U4-7217 – umbracoReservedUrls do not always resolve correctly

U4-7223 – GetCropUrl outputs html entities in url when used in css

U4-7228 – Public property on custom indexer causes error in Examine Admin

U4-7231 – TryConvertTo of ObjectExtensions doesn't do null checks (causes handled errors on members after upgrade)

U4-7234 – Members: Xml node name is no longer always node causing problems with GetCurrentMember()

U4-7248 – Can't update roles on public access

U4-7255 – 7.3.0, CacheRefresher.asmx throw an exception

U4-7257 – The dictionary items in Umbraco 7.3 are not sorted alphabetically

U4-7260 – Multi node tree picker with no selection can cause a error to display in the backoffice

U4-7283 – A ServerRole Slave should not remove old instructions from the database

U4-7285 – Every server that reads a instruction from umbracoCacheInstruction will also write the same instruction to the database. Intentional ?

U4-7302 – Ensure login screen has higher z-index than date pickers

U4-7326 – umbracoReservedUrls do not always resolve correctly
Why choose Umbraco 7.3.1 Hosting for Your Site?
Here are several reason why use Umbraco 7.3.1 hosting
Easy-to-use interface
The platform prides itself on being extremely intuitive and fast, which makes it an appealing platform for non-developer, non-designer users. Translation: Less time learning the technology equals more time focusing on your business.
Easy to customize
Umbraco allows designers to build websites that are equal parts beautiful and customizable .
Good support system
Getting things fixed on your website is a lot easier thanks to Umbraco's support tools. Users have access to a library of over 100 video tutorials as well as an umbraco wiki filled with step-by-step tutorials. (If you're willing to dish out some cash, Umbraco also offers a premium support service for around $4000)
Best Cloud Umbraco 7.3.1 Hosting Recommendation
After reviewed over 30+ Windows hosting companies. In shared hosting, we found ASPHostPortal is the best solution for Umbraco 7.3.1 hosting . 
Our review site is designed to be a trusted place for bloggers, individuals and web designers to find best web hosting solutions at an affordable price. We review each web host in our view points independently, and rate them based on their reliability, features, technical support level, prices and reputation in the industry.
Best Cloud Hosting for Umbraco – ASPHostPortal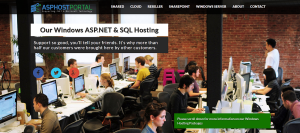 ASPHostPortal.com was launched in 2008. They are one of the best Windows Hosting in United States is ASPHostPortal.com. This company currently supports Windows Server 2012 hosting with ASP.NET 4.5 / 4.5.1 / 4.5.2, MVC 5.1 / 5.1.1 / 5.1.2, Visual Studio 2012, WebSockets, IIS 8.5 and support the latest Microsoft technology. All of its Windows hosting services are 100% compatible with Umbraco 7.2.6.
The price of ASPHostPortal.com Umbraco 7.3.1 hosting packages is quite competitive, especially the Host One which we may recommend most here. Going through this promotional link directly and you will get FREE DOMAIN or DOUBLE SQL SPACE, the Host One Windows hosting package is $5.00/mo.
This company offers money back guarantee if any of the clients fail to get the desired results. If the company does not work up to the expectations in a certain month, and the valid refund period is 30 days. In addition, the customer service is based on US and the representatives are working 24/7.