BestCloudHostingASP.NET | Best and affordable Gallery Server 4.4.1 hosting. Gallery Server is a media gallery for sharing and managing photos, videos, audio, and other files over the web. Easily add thousands of files using one-click synchronization feature. Includes built in support for metadata extraction, watermarking, video and audio transcoding, security management, and more. 100% managed code written in C# and ASP.NET 4.5. NEW IN 4.0: New ribbon toolbar, performance increases and more.
What is Gallery Server?
It's a self-hosted, browser-based gallery for your media files. Gallery Server 4.4.1 makes your photos, videos, audio files and documents accessible from any browser on any device. Install it on your web server or with your web hosting company. You're in complete control. There are no monthly fees. A perpetual license is included with your purchase. Discounted annual subscription renewals give you continued access to updates and support.
What's New in Gallery Server Pro 4.4.1?
Bug fixes
Error "Cannot add null to an existing MediaObjectProfileCollection"
Error during file replacement: "Invalid file extension uploaded"
Confusing message on Media Asset Types page
Delay when assigning thumbnails in large gallery
Page may be reassigned to another gallery
Error "Invalid state of GalleryServerRole instance"
Unnecessary saving of album and purging of cache
Some functions don't work when using the encrypted media URL
Optimization: Save album during sync only when something has changed
Role/album relationships may disappear
Optimization: Uploading images may be slow in large galleries
Editing an image may cause error: Cannot create a file when that file already exists
Error "This codec does not support the specified property"
Gallery Server 4.4.1 Features
Gallery Server supports the following features:
New ribbon UI

New, more efficient workflow for creating albums, moving/copying, assigning thumbnails, rotation and more

New image editor allows cropping, resizing, color adjustments and more

New HTML editor

New Media Queue page

Allow viewing high resolution original files in web browser

Image property edits can be embedded in the original file

Support batch metadata writing to original files

New caching algorithm improves performance – only changed items are purged

Improved support for high DPI devices

Improved touchscreen support

Improve usability of admin pages on small devices

Support for Canon CR2, Nikon NEF, Adobe Illustrator AI and PostScript PS files

Free version now gets the same UI templates as high-end editions (tag clouds/tag trees, PayPal & Facebook templates)

Support for auto-logon using Windows credentials (aka Windows Authentication – great in AD environments!)

AD group role provider – use existing AD groups instead of creating new roles

Up to 50% faster synchronization times

80% faster ZIP download performance

Album structure preserved in ZIP downloads

Better performance on constrained memory servers

CSS changes are preserved during upgrades

Allow manual sorting as default sort option

New 'loop' slideshow option

Support specifying a role that users are always a member of

Takes advantage of full ImageMagick installation, resulting in improved image support

Allow any media asset to serve as the thumbnail for an album

Album breadcrumb menu and login/search dialogs now in UI template

Easier adding, editing, and deleting file types

Extracts people tags written by Windows Photo Gallery

Improved iframe support

Improved HTML rendering performance for large albums

Faster date/time sorting algorithm

Dozens of bug fixes, performance tweaks, and stability improvements

New low cost version called Gallery Server Home and Nonprofit that has support for SQL Server and several features you won't find in the free version.
Best Cloud Gallery Server 4.4.1 Hosting Recommendation
After reviewed over 30+ hosting companies, we will give you our Gallery Server 4.4.1 hosting recommendation. We found ASPHostPortal is the best solution for Gallery Server 4.4.1 hosting. 
Our review site is designed to be a trusted place for bloggers, individuals and web designers to find best web hosting solutions at an affordable price. We review each web host in our view points independently, and rate them based on their reliability, features, technical support level, prices and reputation in the industry.
Best Cloud Hosting for Gallery Server 4.4.1 – ASPHostPortal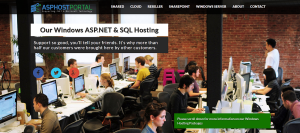 ASPHostPortal.com was launched in 2008. They are one of the best ASP.NET Hosting in United States is ASPHostPortal.com. All of its ASP.NET hosting services are 100% compatible with Gallery Server 4.4.1.
The price of ASPHostPortal.com Gallery Server 4.4.1 hosting packages is quite competitive, especially the Host Onewhich we may recommend most here. Going through this promotional link directly and you will get FREE DOMAIN or DOUBLE SQL SPACE, the Host One hosting package is $5.00/mo.
This company offers money back guarantee if any of the clients fail to get the desired results. If the company does not work up to the expectations in a certain month, and the valid refund period is 30 days. In addition, the customer service is based on US and the representatives are working 24/7.