BestCloudHostingASP.NET | Best and affordable Joomla 3.8 hosting. Joomla 3.8 has been released. This version of Joomla! supports the most recent release of PHP, the most popular programming language for developing web applications. PHP 7 was recently announced with significant performance improvements and is now available for use by the general public. With Joomla! 3.8 users can now enjoy the benefit of that performance improvement.
What is Joomla?
Joomla! is an award-winning content management system (CMS), which enables you to build Web sites and powerful online applications. Many aspects, including its ease-of-use and extensibility, have made Joomla! the most popular Web site software available. Best of all, Joomla is an open source solution that is freely available to everyone. Joomla is designed to be easy to install and set up even if you're not an advanced user. Many Web hosting services offer a single-click install, getting your new site up and running in just a few minutes.
What's New in Joomla 3.8?
The Joomla! Project is proud to announce the release of Joomla! 3.8, the latest in the Joomla! 3 series. This new release features over 300 improvements to the popular CMS, with two primary major features aimed at developers: the new routing system and the beginning of a forward compatibility layer with Joomla! 4.0. Additionally, two security issues have been resolved.
And now, the big question is, what is new in Joomla! 3.8?
Here are some of the new features …
New Routing System – The new routing system gives users more control over their URL structure, including the often requested ability to remove IDs from URLs
Joomla! 4 Compatibility Layer – The development of Joomla! 4 has made some changes in how the core code is structured by migrating classes to use PHP namespaces. Joomla! 3.8 includes a mapping layer to allow developers to use the older class names while being able to take advantage of the new class name structure.
Improved Sample Data Installation – It is now possible to install sample data within your site backend after finishing the installation process, allows users to create their own generic data sets or extension developers to provide easy-to-install sample data for their extensions
Sodium Encryption Support – PHP 7.2 introduces the new sodium extension for processing encrypted data, through a polyfill of this library Joomla! 3.8 makes this new API available for all of our users even before they upgrade to PHP 7.2
Visit the Joomla! 3.8 site to learn more about this release.
Is your website ready for Joomla! 3.8?
Joomla! 3.8 is a one-click update just like previous 3.x versions.
Before upgrading, it is important to update all of your third party extensions and also to take and test a full backup of your site.
This is also a great time to connect with your hosting company and check your PHP and database versions. We recommend upgrading to PHP 7 or 7.1 as it will bring a considerable speed boost to your site. Further system requirements can be found on the technical requirements page.
As always with new features affecting the structure of your website, we strongly encourage you to test thoroughly in a staging environment and put redirections in place before enabling the modern router on your existing sites.
Security Issues Fixed
Core – Information Disclosure in LDAP Authentication Plugin (affecting Joomla 1.5.0 – 3.7.5) More information »
Core – Information Disclosure in com_content Archived Articles Model (affecting Joomla 3.7.0 – 3.7.5) More information »
Visit the Security Centre for more information.
Best Cloud Joomla 3.8 Hosting Recommendation
After reviewed over 30+ Linux hosting companies, we will give you our Joomla 3.8 hosting recommendation. We found ASPHostPortal is the best solution for Joomla 3.8 hosting. 
Our review site is designed to be a trusted place for bloggers, individuals and web designers to find best web hosting solutions at an affordable price. We review each web host in our view points independently, and rate them based on their reliability, features, technical support level, prices and reputation in the industry.
Best Cloud Hosting for Joomla – ASPHostPortal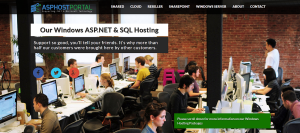 ASPHostPortal.com was launched in 2008. They are one of the best Linux Hosting in United States is ASPHostPortal.com. All of its Linux hosting services are 100% compatible with Joomla 3.8.
The price of ASPHostPortal.com Joomla 3.8 hosting packages is quite competitive, especially the Linux Intro which we may recommend most here. Going through this promotional link directly and you will get FREE DOMAIN or DOUBLE SQL SPACE, the Linux Intro hosting package is $2.50/mo.
This company offers money back guarantee if any of the clients fail to get the desired results. If the company does not work up to the expectations in a certain month, and the valid refund period is 30 days. In addition, the customer service is based on US and the representatives are working 24/7.