BestCloudHostingASP.NET | Best and affordable Mayando hosting. Mayando gives you a rich and interactive website that showcases your photos from an external site such as Flickr. It supports photos with tags and comments, photo galleries, slideshows, static pages, syndication feeds, a contact form, comment spam protection and the possibility to use different visual themes.
What is Mayando?
Mayando is a full-featured photo blogging application that you can use to showcase your photos online. It's written in ASP.NET MVC.
Because actually hosting photos and making sure they are displayed quickly to your visitors (i.e. that they are downloaded rapidly) is a problem that has been solved well by many online services (e.g. Flickr), this application does not typically host the photos itself but is instead configured to display the photos from an external website (such as Flickr in the example). This saves you the cost in hosting disk space and download limits while providing a seamlessly integrated experience to your visitors. You only need a web server that supports .NET Framework 3.5 SP1 as the runtime and SQL Server 2005 or higher as a database engine.
Mayando Features
Mayando supports the following features:
Photos
Obviously, you can display photos. Again, these are hosted on an external website and merely displayed through your photo blog. But you can have as many photos as you want, and the user can navigate through them in lots of different ways. For example: by date taken, by date published, by tag, by title, or simply by searching anywhere in the photo's title, tags, description and comments). You can also start a slideshow to display these photos.
Pages
You can also configure pages to show richly formatted text to the visitor, such as contact information, how they can order prints or what your artistic vision is.
Contact Form
Your visitors can leave you messages through a contact form. Your email address is never shown to them, but their message will be sent to you behind the scenes. You can also configure pages to show the contact form instead of having a separate page just for that.
Comments
Your visitors can leave comments on your photos and pages (if you allow so). If you wish, you can get notified by email if new comments are posted.
Tags
Photos can have tags associated with them, which makes it easier to search and group photos. Users can also navigate photos by tags.
Galleries
Based on these tags, you can create galleries that automatically display all photos with a given set of tags (e.g. a gallery for Portraits or Landscapes). You can even group galleries into a hierarchy to make them easier to navigate.
Syndication Feeds
Mayando exposes RSS and Atom feeds with the latest photos and the latest comments. This way, you and your visitors can use an RSS Reader to automatically be notified when new photos are added or when new comments are posted.
Photo Providers
The photos that should be displayed in your website are synchronized with the external website through a photo provider. This is a flexible model that allows many online services to work with Mayando. Most providers should be able to synchronize not only the photos themselves and their titles and descriptions, but also their tags and comments.
Currently, only a photo provider for Flickr is foreseen. You can get a free account (with some restrictions) which should be sufficient for most users.
Anti-Spam Providers
To minimze or even eliminate the amount of comment spam on your website, you can also configure an anti-spam provider to verify any comment or contact form message before posting it. Likewise as with hosting photos, the problem of attacking spam has already been solved by a number of existing websites, so Mayando will connect to a configurable provider to check for spam.
Currently, only an anti-spam provider for Mollom is foreseen. You can get a free account (with some restrictions) which should be sufficient for most users.
Crisp And Clean
The URL's in Mayando are always very simple and clean so they can easily be memorized and you can navigate to any item directly. It's pretty clear where the following URL's lead, don't you agree?
/photos/tagged/portrait

/photos/published/2009/7/18

/galleries/titled/portraits
The default themes are also very lightweight, simple and clean. There are no fancy effects or complicated user interfaces, instead we tried to aim for the simplest effective solution that makes the photos themselves stand out most – without any distractions from the surrounding site itself. In that sense, it's perhaps very "Web 1.0"-like, but that's a personal preference. If you want to have a highly interactive "Web 2.0" website with all sorts of dynamic updates and fancy effects, you're very welcome to create a custom theme (and don't forget to share it with the community!).
Multi-Language
Mayando automatically detects the visitor's preferred language (as sent by the browser) and translates all static content (not photo titles, descriptions, comments, …) if the language is supported. Currently, English and Dutch are supported but it is fairly easy to support other languages.
Best Cloud Mayando Hosting Recommendation
After reviewed over 30+ hosting companies, we will give you our Mayando hosting recommendation. We found ASPHostPortal is the best solution for Mayando hosting. 
Our review site is designed to be a trusted place for bloggers, individuals and web designers to find best web hosting solutions at an affordable price. We review each web host in our view points independently, and rate them based on their reliability, features, technical support level, prices and reputation in the industry.
Best Cloud Hosting for Mayando – ASPHostPortal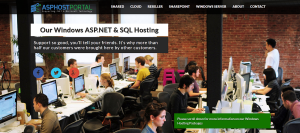 ASPHostPortal.com was launched in 2008. They are one of the best Linux Hosting in United States is ASPHostPortal.com. All of its Linux hosting services are 100% compatible with Mayando.
The price of ASPHostPortal.com Mayando hosting packages is quite competitive, especially the Linux Intro which we may recommend most here. Going through this promotional link directly and you will get FREE DOMAIN or DOUBLE SQL SPACE, the Linux Intro hosting package is $2.50/mo.
This company offers money back guarantee if any of the clients fail to get the desired results. If the company does not work up to the expectations in a certain month, and the valid refund period is 30 days. In addition, the customer service is based on US and the representatives are working 24/7.