BestCloudHostingASP.NET | Best and affordable phpBB 3.2.8 hosting. phpBB is a free flat-forum bulletin board software solution that can be used to stay in touch with a group of people or can power your entire website. With an extensive database of user-created modifications and styles database containing hundreds of style and image packages to customise your board, you can create a very unique forum in minutes.
What is phpBB 3.2.8?
Millions of people use phpBB on a daily basis, making it the most widely used opensource bulletin board system in the world. Whether you want to stay in touch with a small group of friends or are looking to set up a large multi-category board for a corporate website, phpBB has the features you need built in. Newer users will appreciate phpBB's extensive administration panel, which allows the customization of even the most intricate features without having to edit code directly, while advanced users will value the ease with which phpBB can be integrated into existing systems.
The latest version of phpBB is 3.2.8. This update package supplies the automatic updater, which is capable of updating modified installations. This is the package that most users should download to update their forums.
What's New in phpBB 3.2.8?
Improvements
Group helper methods – New group helper methods have been added that will allow easy access to e.g. get a group's avatar
Add Referrer-Policy header – phpBB will now output the Referrer-Policy header by default
Notable Changes
Deny prosilver uninstallation – It's no longer possible to uninstall prosilver from the ACP. It can however still be deactivated
User search by last visit – The user search by last visit returned unexpected users
Notable Bug Fixes
Support for newer TLS in SMTP – Enable use of newer TLS versions for sending mail via SMTP
Login form token check – Restore ability to login from any page in phpBB and fix issues with banned users
Inability to restore backups – An incorrect change in a previous release resulted in the inability to restore backups via the ACP
OAuth login – Multiple issues with logging in from other pages and linking a user's account were resolved
Features of phpBB 3.2.8
If you've ever participated in an online forum chances are the software powering the website you visited was phpBB. Short for PHP Bulletin Board, phpBB is hands down the most popular solution for hosing interactive communities on the web. Developers and website owners choose phpBB because it is easy to install, lightweight, and best of all free & open source. A top feature of phpBB is its unique MOD system by which users can download modifications to their existing installation of phpBB in order to extend functionality or change its look and feel.
Advantages of phpBB
When compared with other forum software on the market phpBB has clear advantages. The number one advantage is the size of the user base and number of websites using phpBB. With hundreds of thousands of websites using phpBB you can rest assured that the software is stable and solid – after all, if it wasn't so stable the masses of websites currently using it would simply jump to another open source solution. Because phpBB is more often than not a single component within a larger website the free styles and themes offered by the phpBB community make it easy for you to integrate into an existing website. Currently there are over 163 free to download styles which can all be further customized based on color scheme to fit the existing look of your website down to the last detail. If you are planning on reaching out to a global audience phpBB currently offers 47 language packs with support for most major languages on the web. This also includes support for complicated languages with different character sets such as Arabic and Japanese.
Best Cloud phpBB 3.2.8 Hosting Recommendation
After reviewed over 30+ Windows hosting companies. In shared hosting, we found ASPHostPortal is the best solution for phpBB 3.2.8.
Our review site is designed to be a trusted place for bloggers, individuals and web designers to find best web hosting solutions at an affordable price. We review each web host in our view points independently, and rate them based on their reliability, features, technical support level, prices and reputation in the industry.
Best Cloud Hosting for phpBB 3.2.8 – ASPHostPortal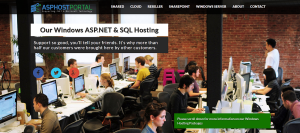 ASPHostPortal.com was launched in 2008. They are one of the best Windows Hosting in United States is ASPHostPortal.com. This company currently supports Windows Server 2012 hosting with ASP.NET 4.5 / 4.5.1 / 4.5.2, MVC 5.1 / 5.1.1 / 5.1.2, Visual Studio 2012, WebSockets, IIS 8.5 and support the latest Microsoft technology. All of its Windows hosting services are 100% compatible with phpBB 3.2.8.
The price of ASPHostPortal.com phpBB 3.2.8 hosting packages is quite competitive, especially the Host One which we may recommend most here. Going through this promotional link directly and you will get FREE DOMAIN or DOUBLE SQL SPACE, the Host One Windows hosting package is $5.00/mo.
This company offers money back guarantee if any of the clients fail to get the desired results. If the company does not work up to the expectations in a certain month, and the valid refund period is 30 days. In addition, the customer service is based on US and the representatives are working 24/7.