BestCloudHostingASP.NET | Best and affordable Sitefinity 9.1 hosting. Sitefinity 9.1 has been released. Now, with Sitefinity 9.1 you can personalize each individual piece of content and image to create a near endless number of customized experiences on a single page, easier and faster than ever before. Some organizations want to keep their software behind their firewall, but for those that want to leverage great cloud platforms like Microsoft Azure and Amazon Web Services, Sitefinity 9.1 makes it easier than ever.
What is Sitefinity?
Sitefinity is a content management system designed by the Telerik corporation. Because it was built with the singular purpose of being a CMS for eCommerce retailers, it features powerful retail-improvement tools that many other content management tools lack.
Sitefinity 9.1 now supports custom contact fields for audience segmentation and contact profiling. If you want to optimize conversions by title, region, industry, height or hair color, you're all set to go.
The key to success is the ability to quickly react when something happens. Sitefinity 9.1 enables you to initiate activities in third-party systems based on lead scoring events. So, whether you're kicking off an automated marketing program, updating a CRM, or connecting to a custom system, you're covered.
Sitefinity 9.1 Features
Get Up Close With Your Customers
To make better, data-driven decisions marketers need to have a central view of each customer's journey. The Sitefinity DEC now provides extended customer contact profiles that display all interactions, touch points and conversions across channels. Sitefinity 9.1 also adds support for contact data import from a CSV file to help marketers get a single view of the customer. The new CSV File Upload connector facilitates all kinds of data imports, including data gathered offline or by third-party companies or systems.
Be More Personal
Sitefinity 9.1 enables you to create and run better personalization campaigns thanks to more flexible audience segmentation using any behavioral and demographic data from the Sitefinity Digital Experience Cloud (DEC). You can also better track the success of these campaigns and measure the impact on conversion rates.
Engage Them in the Moment
Sitefinity 9.1 enables easier creation of content-driven mobile apps thanks to simplified integration with the Telerik Platform, a leading cross-platform mobile development solution. Take a content-first approach to customer engagement and easily reuse content between your websites and mobile apps.
Speak Their Language With Your Digital Assets
If you edit global, multi-lingual websites you need to be able to quickly and easily manage language-specific versions of your images, videos, documents and files so you can deliver localized content.  Sitefinity 9.1 gives you the power to manage language-specific versions of files that align with translated content to supply targeted, localized messages to sites around the globe.
Take It Step by Step
Using a form that asks for only a few attributes helps increase conversion rates. But sometimes you need more detailed information and a way to keep people from quitting in the middle of the process. Sitefinity 9.1 lets you easily and quickly split long and complex forms into smaller steps for a better user experience and increased conversions.
Get Up to Speed, Quickly
Website visitors, marketers and developers all demand fast results from the sites they visit and the software they use. Sitefinity 9.1 brings a host of performance and productivity improvements to the Feather framework (ASP.NET MVC) with precompiled views for widgets and simplified development of widget designers. To further speed delivery and deployment time, developers can enable precompilation for any custom views they create.
Welcome to the New World of Content as a Service
To speed delivery of new features, developers need standardized APIs and tools to easily integrate content with third-party systems, web and mobile apps. Sitefinity 9.1 enables simplified content creation and consumption via a new, modern API based on OData standards and a JavaScript SDK for easier, faster development.
Keep on Delivering Improvements, Continuously
To support changing business requirements, you need to be able to quickly deploy new functionality and apply updates in an efficient and automated way. Improved support for continuous delivery means deploying new website functionality is quicker and can be accomplished with minimum effort.
Out With the Old, In With the New
Enjoy a refreshed administrative interface to manage all your websites. A new Light Theme for the Backend provides a clean design that makes editing easier. They welcome your feedback as we are constantly striving to make the interface easier to use.
Best Cloud Sitefinity 9.1 Hosting Recommendation
After reviewed over 30+ Windows hosting companies, we will give you our Sitefinity 9.1 hosting recommendation. We found ASPHostPortal is the best solution for Sitefinity 9.1 hosting. 
Our review site is designed to be a trusted place for bloggers, individuals and web designers to find best web hosting solutions at an affordable price. We review each web host in our view points independently, and rate them based on their reliability, features, technical support level, prices and reputation in the industry.
Best Cloud Hosting for Sitefinity – ASPHostPortal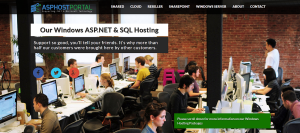 ASPHostPortal.com was launched in 2008. They are one of the best Windows Hosting in United States is ASPHostPortal.com. This company currently supports Windows Server 2012 hosting with ASP.NET 4.5 / 4.5.1 / 4.5.2, MVC 5.1 / 5.1.1 / 5.1.2, Visual Studio 2012, WebSockets, IIS 8.5 and support the latest Microsoft technology. All of its Windows hosting services are 100% compatible with Sitefinity 9.1.
The price of ASPHostPortal.com Sitefinity 9.1 hosting packages is quite competitive, especially the Host One which we may recommend most here. Going through this promotional link directly and you will get FREE DOMAIN or DOUBLE SQL SPACE, the Host One Windows hosting package is $5.00/mo.
This company offers money back guarantee if any of the clients fail to get the desired results. If the company does not work up to the expectations in a certain month, and the valid refund period is 30 days. In addition, the customer service is based on US and the representatives are working 24/7.