Are you ready for WordPress 5.0? WordPress 5.0 is released on December 6 to the world! See new features of WordPress 5.0.
WordPress is an online, open source website creation tool written in PHP. But in non-geek speak, it's probably the easiest and most powerful blogging and website content management system (or CMS) in existence today.
You'll Need to Learn How to Use the Gutenberg Editor
The Gutenberg editor is a new drag-and-drop builder that will completely change WordPress' editing interface. You can still keep the Classic Editor if you want (more on that later), but Gutenberg will be the new default.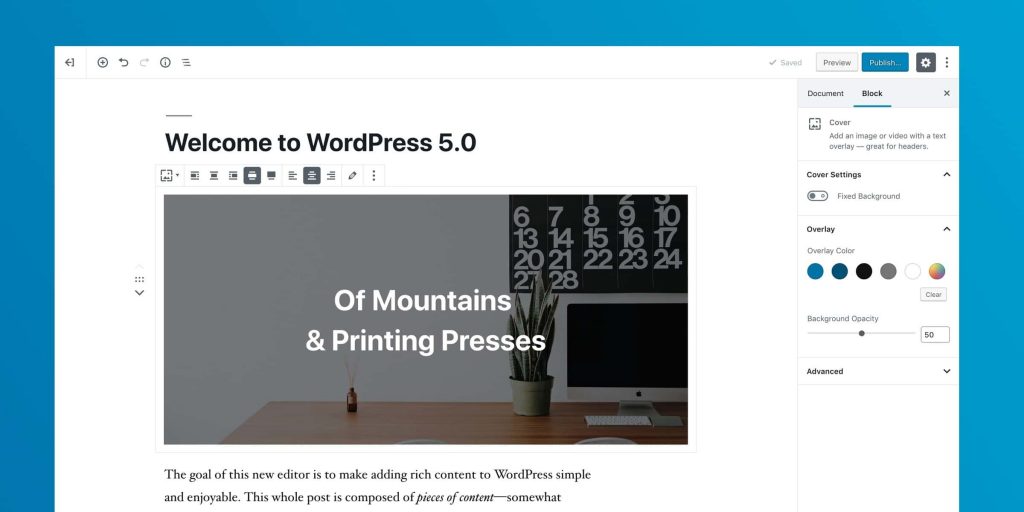 We recommend trying out the Gutenberg editor in a testing environment before you update, to decide if you like the way it works. Since it's such a drastic change, there will likely be a slight learning curve to using it for building posts and pages.
Your Theme and Plugins May Not Be Compatible with Gutenberg
In the lead-up to WordPress 5.0, many theme and plugin developers have been scrambling to get ready, and offering 5.0-compatible updates. However, not every existing tool will be compatible. This means there's a chance that Gutenberg may not play nicely with your site's theme and plugins.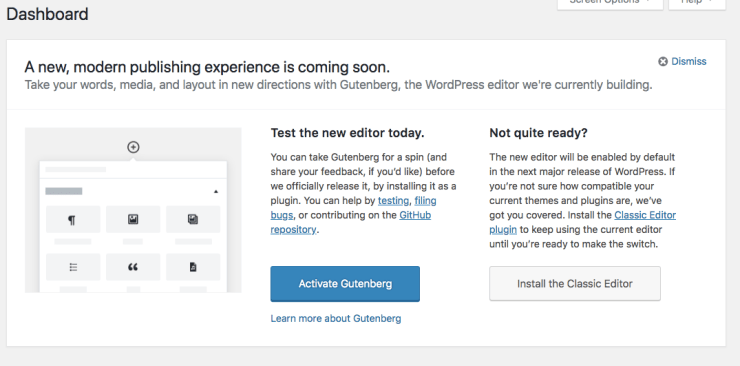 This is especially true if you use a block builder like Divi or Elementor. The Gutenberg creators have taken steps to protect the formatting of your existing content. Since this is such a large update, however, we recommend taking a 'better safe than sorry' approach to testing.
Before updating your site, therefore, you may want to try testing out a copy in a staging environment. Install Gutenberg, your theme, and all of your plugins, and test them out thoroughly for any compatibility issues. You can also check out each developer's site, for more information about which tools are Gutenberg-friendly.
You Can Keep the Classic Editor if You Want To
If you decide that you don't like the Gutenberg editor, you may feel frustrated about losing the interface you're used to. However, you can disable the new editor, by installing the Classic Editor as a plugin.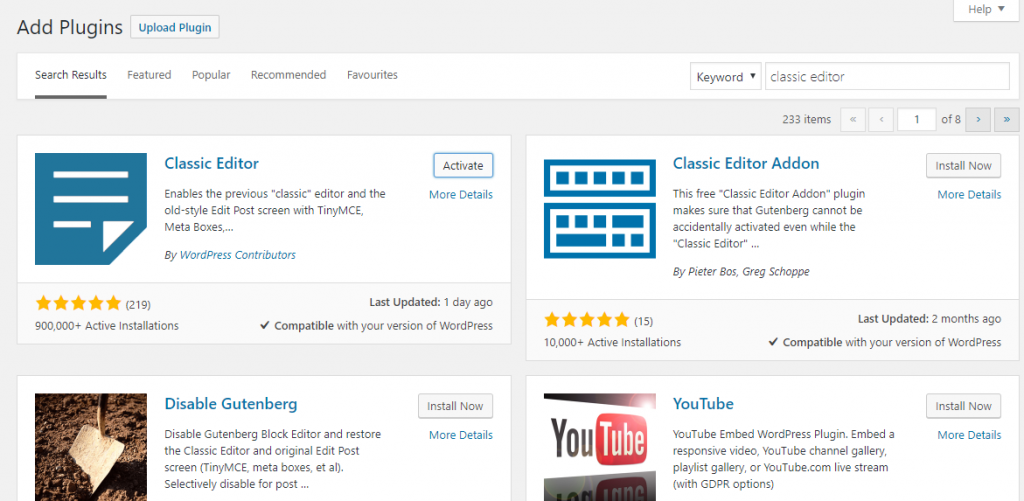 First, you'll want to back up your site (just in case). Then, in your site's admin panel, visit Plugins > Add New, and search for "Classic editor".
Choose Install Now, and select Activate on the next screen. This will redirect you to the plugins page, and from there you can open up the Classic editor's settings.
If you want to completely disable the Gutenberg editor, choose Replace the Block editor with the Classic editor. If you want to use the Gutenberg editor with the Classic editor as an option, on the other hand, select Use the Block editor by default and include optional links back to the Classic editor.
Of course, there are some downsides to disabling the Gutenberg editor. Many believe that the Gutenberg editor will become the future of WordPress. By not using it, you may be missing out on opportunities to give your site a more modern look.
Additionally, theme developers may start adopting Gutenberg as the standard, leaving sites that are still using the Classic editor behind. However, you can certainly continue to use the Classic editor for the time being, and switch over when you feel more comfortable doing so.
It's Vital to Update Your Site as Soon as Possible
Some of the topics we've discussed may make this update sound undesirable. In fact, you might be wondering if you can simply skip the 5.0 update altogether. However, we don't recommend doing that.
Along with new features, WordPress updates add new security features and other important elements to your site. For example, this particular core update is also helping to make WordPress compatible with the latest version of PHP. Staying up to date is crucial for keeping your site safe and ensuring that it runs smoothly.
As long as you take a few precautions, such as testing Gutenberg on a staging site and having a recent backup in place, the risks of not updating WordPress will outweigh the risks of updating it.
When you're ready, you can perform the core update by going to Dashboard > Updates. Simply choose Update WordPress, and don't leave the page until the update is complete. That's all you need to do to benefit from the latest version of WordPress!
Who is The Best WordPress 5.0 Cloud Hosting?
Often overlooked, web hosting is one of the key components of every successful website. Choosing the best web hosting for your needs can improve your SEO and increase sales. There are various different types of WordPress hosting options available such as Free, Shared, VPS, Dedicated, and managed WordPress hosting. In this guide, we will help you choose the best WordPress hosting for your website.
To choose the best and affordable WordPress 5.0 cloud hosting for your websites, we recommend you going with the best and affordable WordPress 5.0 cloudhosting, ASPHostPortal is the leading provider of Linux hosting and affordable WordPress 5.0 Hosting. The price starts from $2.50 per month. To more information about WordPress 5.0 cloud hosting please visit http://asphostportal.com/
Linux Intro
Host 3 Sites
5 GB Disk Space
15 GB Bandwidth
3 MySQL db
100 MB MySQL /db
100 MB Email Space
Unlimited Email Account
Unlimited Email Alias
-
US Data Center
Order Now
Linux One
Host Unlimited Site
15 GB Disk Space
50 GB Bandwidth
5 MySQL db
500 MB MySQL /db
200 MB Email Space
Unlimited Email Account
Unlimited Email Alias
-
US Data Center
Order Now
Linux Two
Host Unlimited Site
30 GB Disk Space
100 GB Bandwidth
10 MySQL db
1 GB MySQL /db
500 MB Email Space
Unlimited Email Account
Unlimited Email Alias
Business Grade Server
US Data Center
Order Now
Why Choose ASPHostPortal ?
Build Your Website – Use ASPHostPortal.com's website building tools to get that special, customized look for your website. A nifty wizard will walk you through the process.
All-inclusive prices unbeatable value – Other companies promise cheap hosting, but then charge extra for setup fees, higher renewal rates, or promotional services. With ASPHostPortal.com, the listed price is the number you'll pay, and you can expect a fully loaded, comprehensive suite of web services.
Fast and Secure Server – ASPHostPortal powerful servers are especially optimized and ensure the best WordPress performance. They have the best data centers on three continent and unique account isolation for security.
Easy to Use and Manage – ASPHostPortal.com web space explorer lets you manage your website files with a browser. A control panel lets you set up and control your server functions with ease.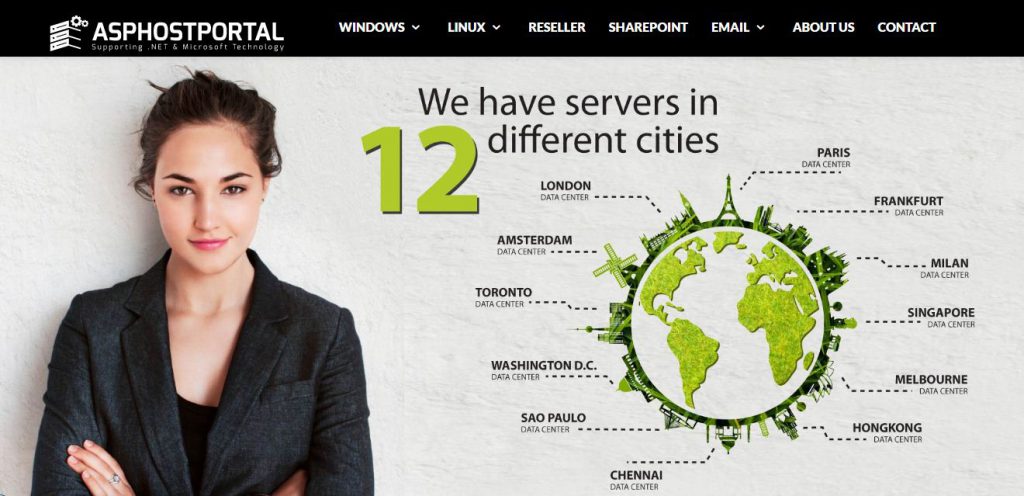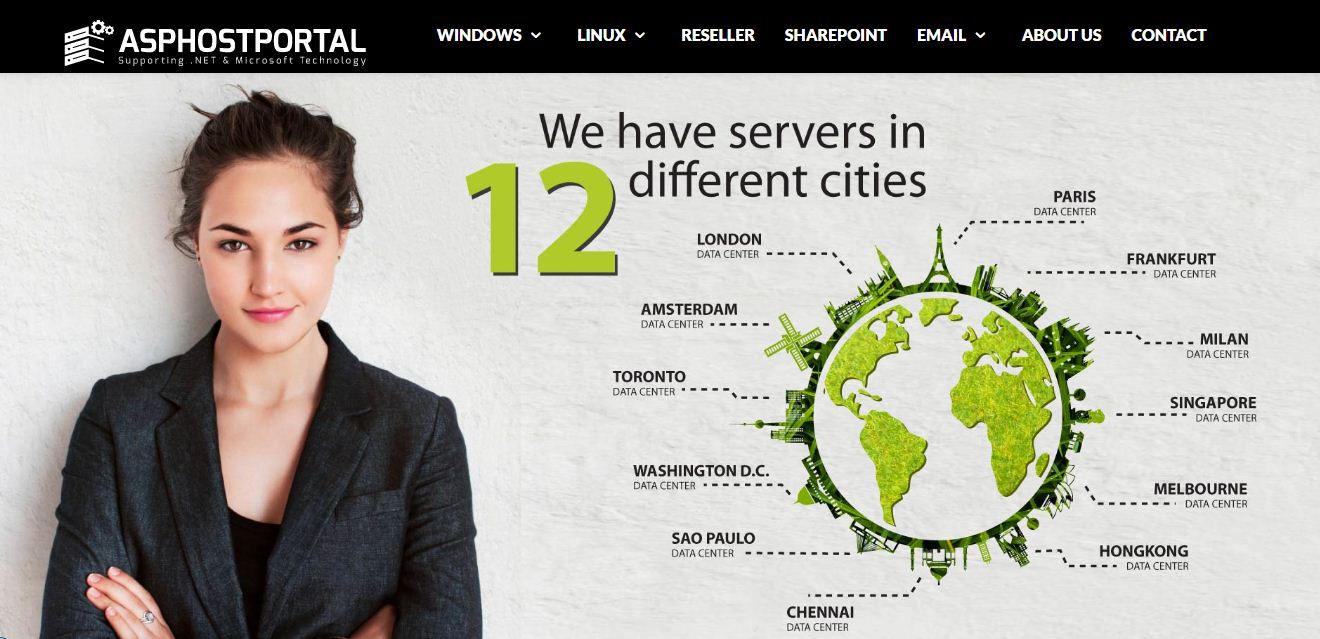 Conclusion
ASPHostPortal.com as The Best and Affordable WordPress Cloud Hosting

From what we have discussed above, ASPHostPortal.com is a good option for hosting WordPress 5.0 websites by highly meeting the installation requirements of this application and offering packages with affordable price and rich features. The key point is that it ensures a reliable hosting environment with blazing-fast page loading speed and provides 24/7 responsive technical support.