Currently in an uproar on social media, both Facebook and Twitter about SmartASP.NET which was attacked by Ransomware. So since the last few days SmarterASP.NET, a large web hosting company with more than 440,000 customers, has been attacked by Ransomware and they had announced it on their official website.
Your hosting accounts are under attack.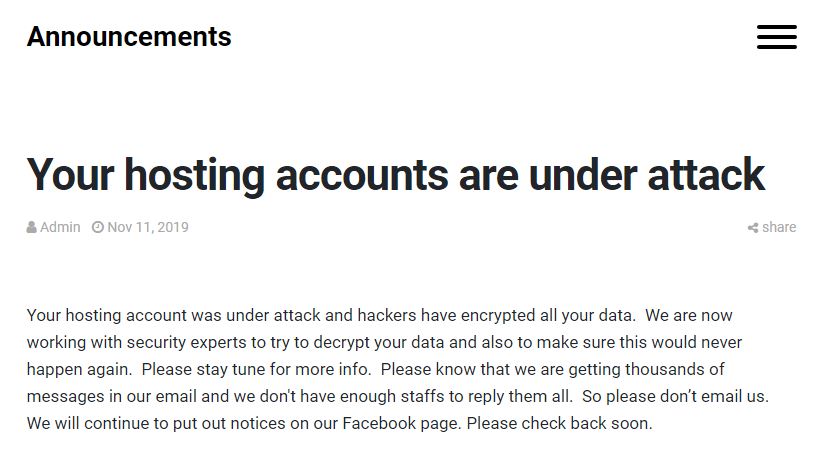 Hackers breached the network of SmarterASP.NET, an ASP.NET web hosting provider, over the weekend and encrypted data on customer servers. The company later confirmed that it was hit by a ransomware.
According to reports, the ransomware attack hit and encrypted customers' web hosting accounts – which give customers access to servers where they can store files and data required to run their websites – thus crippling customer websites. SmarterASP.NET's website was also initially downed by the attack, but has since been recovered.
According to a ZDNet report, the customer files were encrypted by a version of the Snatch ransomware, which is known for being distributed via spam email containing infected attachments or by exploiting vulnerabilities in the operating system and installed software. Typically Snatch ransomware locks down victim data and asks for a ransom between $500 to $1500 in Bitcoin.
The Snatch ransomware encrypts the personal documents found on victim's computer, then displays a message which offers to decrypt the data if a payment in Bitcoin is made. The instructions are placed on the victims desktop in the Readme_Restore_Files.txt file.
The Snatch ransomware is distributed via spam email containing infected attachments or by exploiting vulnerabilities in the operating system and installed software.
The Snatch ransomware restricts access to data by encrypting files. It then attempts to extort money from victims by asking for "ransom", in form of Bitcoin cryptocurrency, in exchange for access to data.
When Snatch ransomware infects your computer it will scan all the drive letters for targeted file types, encrypt them, and then append the Snatch extension to them. Once these files are encrypted, they will no longer able to be opened by your normal programs. When this ransomware has finished encrypting the victim's files, it will also display a ransom note that includes instructions on how you can make a payment.
Attack happened on Saturday
The attack didn't just hit customer data, but also SmarterASP.NET itself. The company's website was down all day on Saturday, coming back online earlier today on Sunday morning.
Server recovery efforts are going slow. Many customers still don't have access to their accounts and data. Those who do say their data is still encrypted, including website files but also backend databases.
While most users where using SmarterASP.NET for hosting ASP.NET sites, some were using the company's serves as app backends, where they were synchronizing or backing up important data. The fact that backend databases have also been hit, and not just public-facing web servers, has prevented many from moving impacted services to alternative IT infrastructure.
If you are tired of thinking about ransomware attacks, it helps you choose to move your web hosting to asphostportal. They are a reliable asp.net hosting company that you can get at affordable prices. Their support team will also always be ready to help you 24/7.