BestCloudHostingASP.NET | Best and affordable Sitefinity 10 hosting. Sitefinity 10 has been released. Now, with Sitefinity 10 you can personalize each individual piece of content and image to create a near endless number of customized experiences on a single page, easier and faster than ever before. Some organizations want to keep their software behind their firewall, but for those that want to leverage great cloud platforms like Microsoft Azure and Amazon Web Services, Sitefinity 10 makes it easier than ever.
What is Sitefinity?
Sitefinity is a content management system designed by the Telerik corporation. Because it was built with the singular purpose of being a CMS for eCommerce retailers, it features powerful retail-improvement tools that many other content management tools lack.
Sitefinity 10 now supports custom contact fields for audience segmentation and contact profiling. If you want to optimize conversions by title, region, industry, height or hair color, you're all set to go.
The key to success is the ability to quickly react when something happens. Sitefinity 10 enables you to initiate activities in third-party systems based on lead scoring events. So, whether you're kicking off an automated marketing program, updating a CRM, or connecting to a custom system, you're covered.
Sitefinity 10 Features
3rd Party User Authentication
Easily enable social logins or other third-party OAuth and OpenID provider strategies. Website users can login with Facebook, Google, Microsoft, Twitter, Github and LinkedIn using out-of-the-box functionality or use just their email to register a new account, no hard-to-remember usernames required. Should you need a custom provider developed, the simplified API has you covered.
Enterprise Security
Managing user rights and implementing complex identity management requirements outside of Sitefinity has never been easier. Now you can integrate with ADFS or LDAP to automatically authorize website users by mapping Active Directory roles to Sitefinity roles. Sitefinity 10 also brings UI improvements making it easier to manage user access for multiple sites from a single CMS instance.
Keep It Secret, Keep it Safe
Developing a website that only the chosen should see before a big bang launch? No problem, activate Sitefinity Site Shield and you are covered. Website Managers can easily invite stakeholders to the secured site and monitor when they access the site and from what devices. No need for stakeholders to be CMS users. Great for product managers and web agencies that need to secure approval from end clients and legal teams.
This feature will be available only for Sitefinity licenses that have Multisite Management capability.
System Health Check API
The Sitefinity health check API endpoint helps to easily get the current status of a website in terms of database access, NLB communication, Internet connectivity and Redis access. Easily integrates with your existing monitoring solution with a simple call to the API.
Fire Up Your Website Performance Engine
Ensure sites are configured for optimal performance from the very first user visit. The Sitefinity Warmup Tool gets all sitemap pages, compiles them based on sitemap priority and stores them in the output cache. Now you can be confident that your pages are ready to perform at their best on the user's first visit. It all works in the background and Developers can extend it leveraging its plugin architecture.
Improved Diagnostic Tools
Sitefinity 10 takes website diagnostics to the next level by introducing more granular profiling for MVC-based widgets, improved SQL database profiling without impact on site performance and support for Razor templates compilation, site restarts and network load balanced (NLB) requests profiling. Reporting data size can be limited through configuration.
Export / Import Site Data
Streamline the development of new websites by easily moving CMS modules and their data from one Sitefinity instance to another. Support for exporting user profiles has also been added. Great for having starter kits ready to go for the next project.
Complete Cache Control
Always serve the latest content to your visitors around the world by implementing a cache-control header strategy with full control over the cache settings for site images and pages delivered by your CDN.
Azure Cloud Support Improvements
Developers can take advantage of the latest Azure SDK to deploy Sitefinity websites in the cloud.
SVG Image Support
Content Marketers can easily use SVG images to deliver an optimal visitor experience across mobile devices without technical assistance or security concerns. Sitefinity provides out-of-the-box protection against malicious scripts that can be ended in SVG images.
Multisite Data Tracking
Sitefinity 10 makes it possible to isolate customer journey data for individual websites powered by a single CMS instance (codebase) in separate data centers in the Digital Experience Cloud. Thus, Digital Marketers can get data-driven insights that are specific to the brand or website they manage.
Persona Scoring Improvements
Implementing a persona scoring model is part art and part science. Hence, most Digital Marketers choose to start from the big picture and refine their scoring model as they learn from the data. Sitefinity DEC now makes it easy to attribute all user visits under a given website section to a persona profile, including repeat visits. Thus, Marketers can deliver more targeted experiences across their Sitefinity sites.
MVC-Based Widget Tracking
All MVC-based widgets in the CMS can now send data to the Digital Experience Cloud out of the box, making it easier for Developers to benefit from the latest ASP.NET MVC technology while helping Marketers get a complete view of the customer journey.
Best Cloud Sitefinity 10 Hosting Recommendation
After reviewed over 30+ Windows hosting companies, we will give you our Sitefinity 10 hosting recommendation. We found ASPHostPortal is the best solution for Sitefinity 10 hosting.
Our review site is designed to be a trusted place for bloggers, individuals and web designers to find best web hosting solutions at an affordable price. We review each web host in our view points independently, and rate them based on their reliability, features, technical support level, prices and reputation in the industry.
Best Cloud Hosting for Sitefinity – ASPHostPortal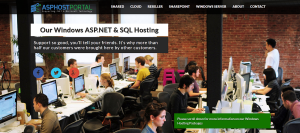 ASPHostPortal.com was launched in 2008. They are one of the best Windows Hosting in United States is ASPHostPortal.com. This company currently supports Windows Server 2012 hosting with ASP.NET 4.5 / 4.5.1 / 4.5.2, MVC 5.1 / 5.1.1 / 5.1.2, Visual Studio 2012, WebSockets, IIS 8.5 and support the latest Microsoft technology. All of its Windows hosting services are 100% compatible with Sitefinity 10.
The price of ASPHostPortal.com Sitefinity 10 hosting packages is quite competitive, especially the Host One which we may recommend most here. Going through this promotional link directly and you will get FREE DOMAIN or DOUBLE SQL SPACE, the Host One Windows hosting package is $5.00/mo.
This company offers money back guarantee if any of the clients fail to get the desired results. If the company does not work up to the expectations in a certain month, and the valid refund period is 30 days. In addition, the customer service is based on US and the representatives are working 24/7.